At Barrett Group Custom Builders, we've built our business around delivering premium quality construction work that looks beautiful, performs splendidly and stands the test of time. To do that, we use only the best; the best people, the best materials, the best practices and principles.  For us, delivering the finest in quality workmanship has become a bit of an obsession – one our customers thank us for, time and time again.
Established in 2004, Barrett Group Custom Builders was formed out of a desire to construct beautiful functional spaces that will be used, enjoyed and admired for many generations to come. Since then, we've undertaken many custom projects from early stage forming and framing to large-scale renovations and restorations to complete design-build commercial and residential work.
Choosing your contractor is a difficult decision. BGCB will review your plans, or vision, with you (and architect) and then prepare an estimate for the work that will be required. Our estimates look at over seven pages of details, with twenty various task categories. As part of our project process, we also prepare a complete schedule of these tasks that includes important milestones along the way. Our previous customers will be happy to confirm that Quality of workmanship, Fiscal responsibility, Time management and Teamwork are the key benefits you get when you choose BGCB.
The investment that you are making in your new home should be a rewarding and stress-free, satisfying experience.
We want to be part of your team
We understand your pain – contractors who disappear halfway through a project, unexplained cost overruns, and shoddy workmanship. For us, integrity is the key to fulfilling your contentment with the overall process of building your new home.
There are three pillars that guide our business practices: 1) commitment to quality 2) rigorous project management and 3) open communication. "Quality Never Compromised" is our promise that we will extend every effort to ensure that "quality" is the keyword when it comes to materials and workmanship, sub-trades, and the information that helps you analyze the progress of the project. We set high standards of quality for every single person who contributes to the project. Our attention to detail does not stop at the construction site but extends to the management of the project, by providing you with, not only very useful information that shows detailed scheduling and project cost analysis, but also through diligence in managing the various trades and tasks that need to be accomplished in an efficient and timely matter. Transparency is the key to our information flow and partnering with you the homeowner and the architect all through the process alleviates stress and challenges that occur during the construction of your new home.
Our previous customers are a testament to these business practices and we are only too happy to provide you with references so that you can hear directly from them.
President, CEO
Joel Barrett
Joel has been in the industry as a laborer, quickly gaining skills as well as going through the apprentice program. He became a red seal journeyman carpenter early in his career, transitioning to owner of his own company.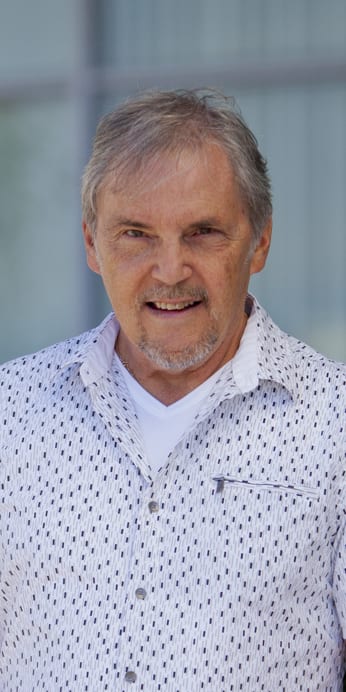 Administrator
Cal Barrett
Project analysis is extremely important to the homeowner and the company - the integrity of the project depends upon this transparency.