A dependable luxury custom home builder and renovations contractor
At Barrett Group Custom Builders, we provide expert, custom construction services, home renovations and remodeling services to clients throughout BC.
Completing custom home construction and renovation projects on budget and on time is our commitment, and we have been doing this successfully since 2004. With our premium quality workmanship, rigorous project management and open, honest communication, we have secured a reputation as an award-winning premium Vancouver custom home builder and a trusted home renovations contractor in the Greater Vancouver area.
So, whether you're building a new home, undertaking a major renovation, or looking for a general contractor, call us first. We'll make sure you get the job done right.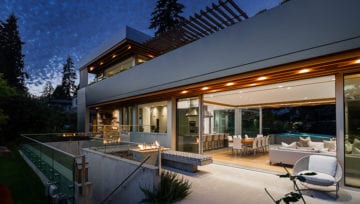 We are extremely honoured to be recognized at the 2021 HAVAN Awards for Housing Excellence. Winning 3 awards 1. BEST CUSTOM HOME $2 - $3m 2. BEST CERTIFIED HIGH PERFORMANCE HOME NEW OR RENOVATED 3. GRAND HAVAN AWARD for CUSTOM BUILDER OF THE YEAR This beautiful BuiltGreen Platinum Certified home was a collaborative effort and we would like to thank our amazing team for doing such a great job executing all of the details that make this home so special Also, A huge shout out and thank you to Berwick Architects, the amazing home owners and all of our trades and professionals involved in the project
We're excited to be finalists in four categories in the upcoming 2021 Georgie awards! Congratulations to all of the finalists, we're honoured to be nominated alongside a group of such talented people. This beautiful North Vancouver custom home is a finalist in these three categories: Custom Home, Best Innovative Feature and Best Certified Home. As well, BGCB is a finalist in the Grand Georgie Award: Custom Home Builder of the Year. Many of the details are included in our Project Profile, so if you would like to see more, go to our Portfolio page and click on the "Keith Road North Vancouver Custom Home."
Do you need professionals to build your dream home?
Our team of professionals can help you through the complete design/build process.
Quality Never Compromised
There are three pillars that guide our business practices: 1) commitment to quality 2) rigorous project management and 3) open communication. "Quality Never Compromised" is our promise that we will extend every effort to ensure a stress-free build and that quality is the keyword when it comes to materials and workmanship, sub-trades, and the information that helps you analyze the progress of the project.
Barrett Group Custom Builders completed an extensive renovation to our family cabin at Sakinaw Lake. Although the project had many challenges, such as remote location and difficult terrain, Joel and his crew managed to achieve a fabulous result. Several areas required onsite decision making and creative adaptations, most of which we saw after the fact. All of these details were handled professionally and we were very happy with the outcomes. One is particular was the fireplace hearth which was designed by the crew and looks absolutely great. Our family has had some time to enjoy the new cabin this summer and we are all loving the new improved version. It's been a pleasure to work with everyone at Barrett Group. Thank you for a successful project. Their work was exceptional. The terrain and location of this site was challenging. They had to find local trades-people or bring their own. Everything went according to plan and the finished product is great. I would recommend Joel Barrett and Barrett Group without hesitation.
Joel and his guys did a great job (as I knew he would)!!! My tenants were really grateful too, they said it was refreshing to actually have people come in who worked hard and were professional.
What started out as a small reno that would only take a few months has grown into a 13 month relationship & a massive rebuild. Thank you for the commitment to build our dream home and ensure all of our "must haves" were included. Your tenacity & resolve have been truly appreciated from us.
As an architect having been in the business for 40 years, I have not come across a contractor who can handle all the elements of a construction job as well as the Barrett Group. They are professional, giving studious attention to detail, enthusiastic effort to the job at hand, and solid concentration to every detail. I highly recommend them to anyone who is in need of a general contractor who can deliver an excellent end product.
Hi I'm a neighbour of the house you built in Pemberton Heights. It's been amazing watching your crew build that house. I couldn't imagine what could be done on that lot before - what you created was beyond anything I could have dreamt up. Well done!!
We found out about Barrett Group Custom Builders through our architect. We were wanting to Reno our 50-year-old post and beam house with a more modern look and feel, and some additional space. Throughout the process the builders worked seamlessly with the architect, and Barrett Group was proactive with communication throughout the unique and sometimes unpredictable situations that come up during a Reno. The project was completed on time even though we increased the scope of the project during the build. From a billing perspective, invoices were always clear and well laid out. The quality of work by the Barrett employees was excellent with only minor sub-trade issues that Barrett worked to resolve as quickly as possible. We always felt that Barrett Group took utmost pride in their work and wanted to do the best job possible for their clients. We could have wanted a bit more attention after the deficiency walk through, but it wasn't a huge issue. This review is late in coming but during the year that we have lived in our new space we have loved every minute of it and consider our entire experience to be a positive one! 
To top the project off, Joel built our Dining room table as we were having difficulty finding one we knew would match our style-a picture is included!
Thank you Barrett Group-Good Luck this year.

I am most pleased, with no hesitation, to recommend the highly professional team of Barrett Group Custom Builders. We worked together (and will continue on phase two and three) on a home in Shaughnessy, in Vancouver, which suited the needs of the clients from a spacial perspective, but not from a finishing perspective. So I dreamed up some great challenges, to convert the interior space from a cool contemporary home, into a warm, antiqued styling, with sophisticated French farmhouse flavour. This included magnificent new stone walls, wrapping beams with an aged walnut veneer, walnut headers over all doors and windows, outstanding custom millwork from Downsview, limestone antique wall mounted stone sinks from France, four top of the line custom bathrooms, with exposed valve Perrin & Rowe plumbing fixtures and on and on. The toughest challenge for Barrett was matching a three inch detail where the counter stone meets a walnut countertop- acting as a sitting area on the extended Kitchen Island. It was hugely successful in big part due to the communication between Bordignon, Barrett and the Millworkers. Magnifique! The boys were clean, organized, polite, patient and have delivered a top of the line product to a discerning Interior Designer and client. I look forward to working with the Barrett Group again!
Very honest, experienced builder. Has a very high standard for workmanship and service. Would recommend Barrett Group to anyone.
Joel, Brad and the BGCB team were flexible and good to work with. They interacted well with the design professionals and municipal inspectors involved on the project and they showed good quality in their work.
Barrett Group managed the entire scope of the job in a timely, professional manner. As issues came up, they were dealt with immediately and did not impact the progress of the project. I would not hesitate to recommend Barrett Group for any construction needs.
Recently my partners and I leased a restaurant and gutted roughly 75% of the previous space. The Barrett Group led by their very competent project manager were professional and transparent through the entire process. I had complete faith that the project was done with our best interest and they made sure the sub trades were managed properly and within budget. Their were no surprises or discrepancies in our final bill and we're already planning to use them on a future project.
Synthesis Design has had the pleasure of collaborating with Barrett Group on many projects for our clients. Joel and his team are professional, communicative, and very budget and deadline driven. We look forward to our next collaboration and highly recommend Barrett Group for your next build or renovation.
We heard about Barrett Group through friends of friends and we couldn't be more pleased with the quality of work, ease of dealing with Barrett's on-site and office staff and contractors, communication and the result. We would recommend Barrett Group to anyone looking for an honest, straightforward and quality construction contractor. Quinn was our on-site project manager and lead carpenter and was everything we could have asked for - responsive, anticipated our needs, respectful, and highly competent.
I can't say this enough. I am grateful each time you return my calls and return them quickly if I may add. And after 7 years, the level of support and service you provide us on items big or small has not changed. We are lucky to have you as our builder!
From start to finish, Joel and his team at Barrett Group treated our exterior renovation project with such care and attention. He expertly guided us through the design process, recommending an affordable local architect to handle the drawings and permitting work. From there, Joel developed a thorough project plan and budget, giving us an understanding upfront of the costs and dates associated with the project. The COVID-19 pandemic brought unique challenges to the project, such as lengthy material delays, but Joel's team always responded with flexibility, integrity and a commitment to getting the job done in a timely manner. Every person I encountered at Barrett from Quinn our Site Supervisor to Corey our Assistant Contractor, had the quality of work and attention to detail I expected. I can't say enough about the positive experience we had working with Barrett Group Custom Builders!
Next
Previous